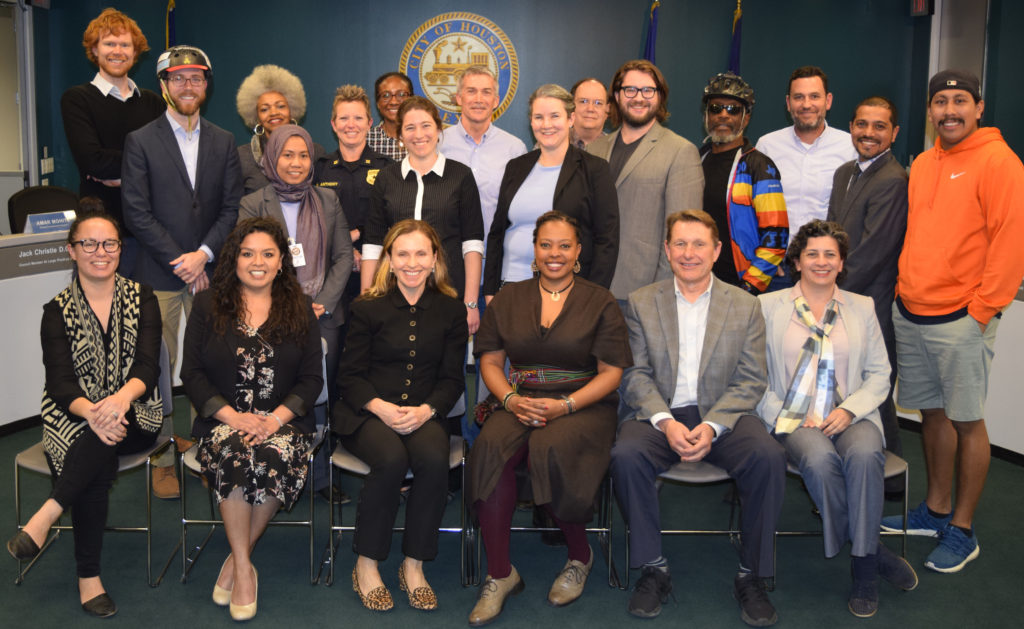 "Houstonians need more choices to connect safely to jobs, parks and services other than by car. The Houston Bike Plan provides a guide toward creating a safer and more accessible city that can be enjoyed by anyone who wants to ride a bicycle. I am proud of our accomplishments thus far but know there is much more to do." – Mayor Sylvester Turner
About the Committee
---
The committee will advise and make recommendations to the Planning Commission and Planning Director on bicycling issues in Houston, including amendments to the Bike Plan, bicycle safety and education, strategies for funding projects, and promoting public participation in bicycling. The Committee was established by ordinance in 2017 to assist in implementation of the Houston Bike Plan.
The Chair and Vice-Chair of the Bicycle Advisory Committee (BAC) formed two subcommittees in May 2018. The two subcommittees are the Infrastructure Subcommittee and the Education Subcommittee. These two subcommittees were established in order to draft recommendations for consideration by the BAC. The Infrastructure Subcommittee will address topics related to selecting, designing, and implementing the Bike Plan's proposed network of bikeways.  The Education Subcommittee will address educational programs and tools needed to increase safety for vulnerable road users. The equitable distribution of new bike infrastructure and safety of vulnerable road users will be core components of both subcommittees.
The subcommittees will meet in alternating months that the full BAC is not meeting (i.e. Infrastructure Subcommittee will meet in May, the Education Subcommittee will meet in June, and the full BAC meeting will be held in July).
Committee Members
---
Tom Compson, Chair, Advocate (I/E)
Alejandro Perez, Vice Chair, North Houston Neighborhood Rep. (I)
Clark Martinson, Bike Waller (I)
Tracy Alexander, AARP Foundation
Adam Williams, Community Advocate
Zion Escobar, Houston Freedmen's Town Conservancy
Sandra Rodriguez, Gulfton Super Neighborhood
Kristine Anthony-Miller, Houston Police Department (E)
Beth Martin, Resident/Advocate (I/E)
Lisa Graiff, Houston Parks Board
Jessica Wiggins, Traffic Engineers Inc.
Yuhayna Mahmud, METRO (I/E)
Judith Villarreal, Ghost Bike/EastEndBikeRide
Trevor Reichman, Advocate
Amar Mohite, Harris County Precinct 1 (I)
Nikki Knight, Greater Southeast Management District
Mike VanDusen, Super Neighborhood Alliance (I)
Ana Ramirez Huerta, TxDOT Houston District (I)
Robin Holzer, Neartown/Montrose Neighborhood Rep. (I/E)
Dr. Veon McReynolds, Third Ward/South Houston Neighborhood Rep.
Nick Hellyar, BikeHouston
Ex-Officio Members
David Fields, Chief Transportation Planner, Planning & Development Department
Ian Hlavacek, Houston Public Works Department (I)
Juvenal Robles, Parks and Recreation Department
"I" indicates a member who is serving on the Infrastructure Subcommittee. "E" indicates service on the Education Subcommittee.
Committee Documents
---
In accordance with current guidance on COVID19, BAC meetings will be held only in an electronic format. Connection information can be found in the agenda. You may want to test your browser with the links prior to the start of the meeting.
November 17, 2021
October 27, 2021
September 22, 2021
August 25, 2021
July 28, 2021
June 23, 2021
May 26, 2021
April 28, 2021
March 24, 2021
March 10, 2021
January 27, 2021
December 16, 2020 (Education Subcommittee)
November 18, 2020 (Infrastructure Subcommittee)
October 21, 2020
September 23, 2020 Education Subcommittee
September 9, 2020 Infrastructure Subcommittee
July 22, 2020
June 24, 2020 (Education Subcommittee)
June 3, 2020 (Infrastructure Subcommittee)
April 22, 2020
April 1, 2020 (Deferred Education Subcommittee)
February 19, 2020 (Infrastructure Subcommittee)
January 22, 2020