Bike to Work Day, part of Bike Month, represents a unified day of celebration across the United States where the nation comes together to celebrate the bicycle: as a mode of transportation, as a fun way to explore your city, a way to get to work or just get around your neighborhood. Houstonians are challenged to rethink how we commute to the places we live, work, and play during the month of May.
Join us in celebrating Bike to Work Day with a ride the morning of Friday, May 19. We'll start at the EaDo Bike Company, 912 Saint Charles St.  and ending at City Hall. The ride starts promptly at 7:30 a.m., so plan to get there by 7:15 a.m.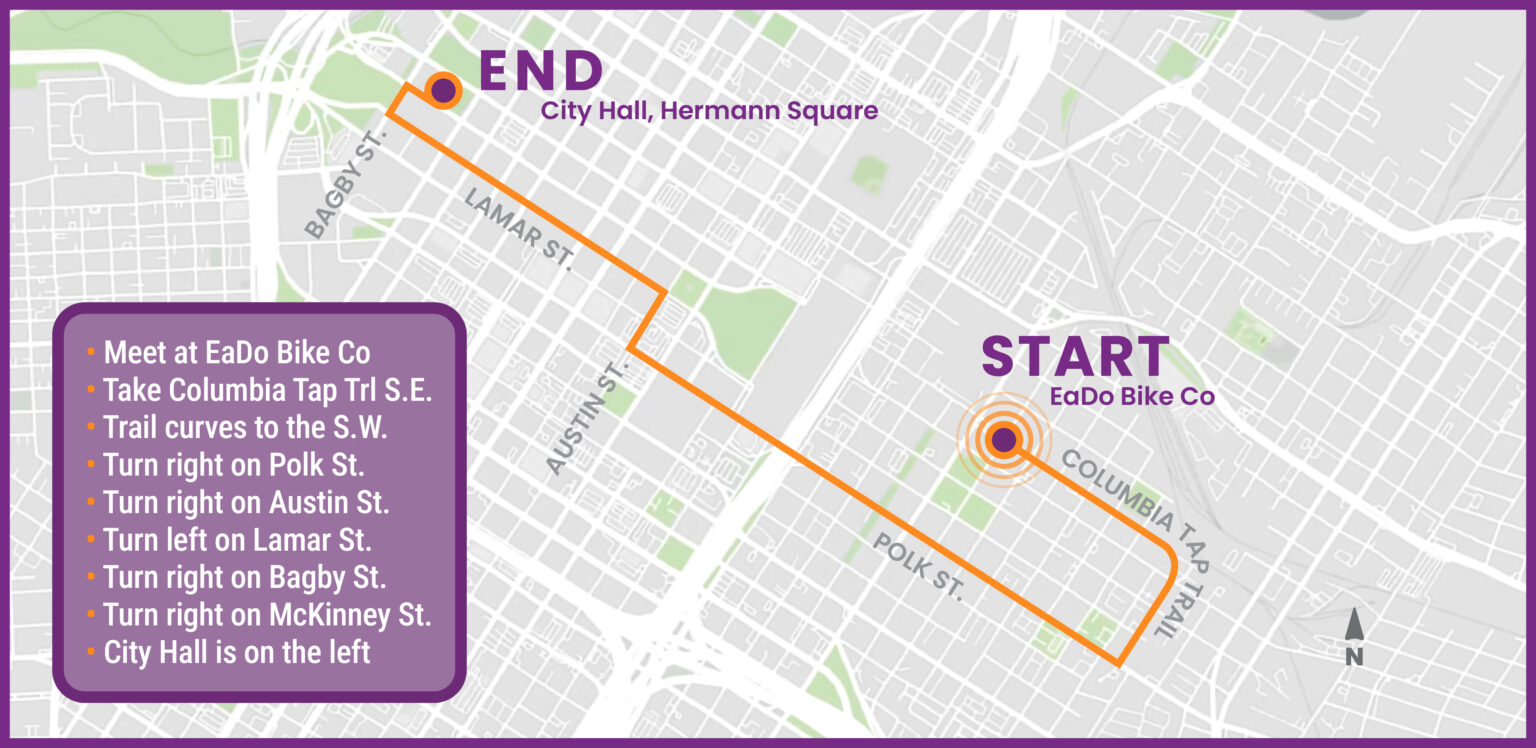 Bike Route
• Meet at EaDo Bike Co by 7:15 a.m.
• Take Columbia Tap Trl S.E.
• Trail curves to the S.W.
• Turn right on Polk St.
• Turn right on Austin St.
• Turn left on Lamar St.
• Turn right on Bagby St.
• Turn right on McKinney St.
• City Hall is on the left, ride will end by 8 a.m.
If you can't join us, we challenge you to ride your bicycle to work May 19 or another day during bike month. If you do, take a picture and tag the Houston Bikeways social media with the hashtag #BTWD2023. To help make your ride safe and enjoyable, we've listed some safety tips below. We'll also be crowdsourcing some tips on biking on Facebook and Twitter, so be sure to follow us and join the conversation!
Twitter: @HoustonBikePlan
Facebook: www.facebook.com/HoustonBikeways
Riding Resources
Safety Tips
Make sure your bike is in good working condition before riding. Check your tires for proper inflation and brakes and chain for proper operation. VIDEO
Wear a helmet – and make sure it is secured correctly. VIDEO
Ride on the right side of the road and with traffic.
Obey all traffic rules, signs and signals.
Look before changing lanes, and use hand signals for turns. VIDEO
Watch for potholes, debris, cars, trucks, pedestrians and other bicyclists.
Stay outside the "door zone" by riding at least 4 feet away from parked cars– you never know when somebody might step out of the car unexpectedly!
Cross railroad tracks at right angles. VIDEO
Be visible and predictable at all times.

Travel in a straight line.
Wear bright clothing.
Use both a front and back light at night.
Did you Know…
Did you know in by December 31, 2022, the City of Houston built a total of 403 bicycle miles
Did you know that the City of Houston has 177 bicycle miles programmed in 2023
Did you know that the City of Houston, has a new mini bike lane sweeper, and it was named, Space City Sweeper
Did you know that the Houston Parks Board completed the Missouri Kansas Texas (MKT) Trail Spur Connector and the trail closes the gap between the MKT and White Oak Bayou
Did you know that the MKT Trail links users to 17 miles of hike-and-bike trails along the Greenway Trails.
Did you know .. you can fit about 15 bicycles in the same space that one car occupies
Did you know… it is 20 times cheaper to maintain a bicycle than a car
Did you know that the world manufactures about 100 million bikes each year
Did you know that if the number of cyclists was tripled, the rate of motorist-bicyclist crashes would be cut in half