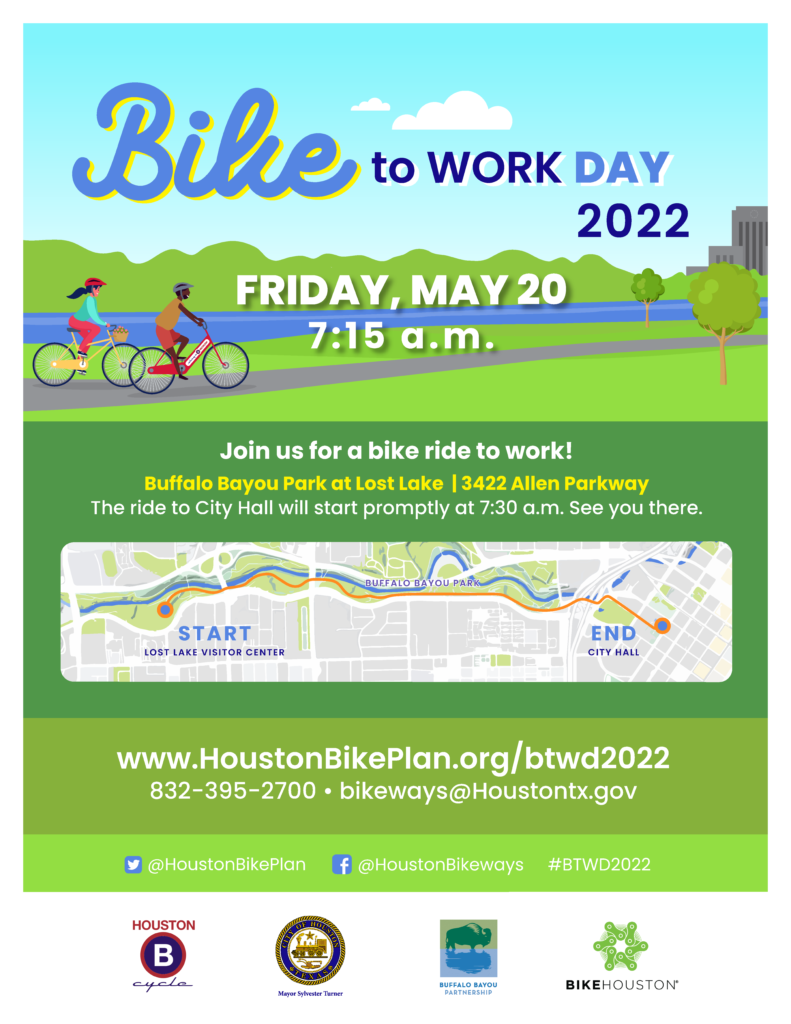 Bike to Work Day, part of Bike Month, represents a unified day of celebration across the United States where the nation comes together to celebrate the bicycle: as a mode of transportation, as a fun way to explore your city, a way to get to work or just get around your neighborhood. Houstonians are challenged to rethink how we commute to the places we live, work, and play during the month of May.
Join us in celebrating Bike to Work Day with a ride the morning of Friday, May 20. We'll start at the Lost Lake Visitor Center (3422 Allen Parkway), riding along Buffalo Bayou Greenway and ending at City Hall. The ride starts promptly at 7:30am, so get there early!
If you can't join us, we challenge you to ride your bicycle to work May 20th or another day during bike month. If you do, take a picture and tag the Houston Bikeways social media with the hashtag #BTWD2022. To help make your ride safe and enjoyable, we've listed some safety tips below. We'll also be crowdsourcing some tips on biking on Facebook and Twitter, so be sure to follow us and join the conversation!
Twitter: @HoustonBikePlan
Facebook: www.facebook.com/HoustonBikeways
Safety Tips
Make sure your bike is in good working condition before riding. Check your tires for proper inflation and brakes and chain for proper operation. VIDEO
Wear a helmet – and make sure it is secured correctly. VIDEO
Ride on the right side of the road and with traffic. VIDEO
Obey all traffic rules, signs and signals.
Look before changing lanes, and use hand signals for turns. VIDEO
Watch for potholes, debris, cars, trucks, pedestrians and other bicyclists.
Stay outside the "door zone" by riding at least 4 feet away from parked cars– you never know when somebody might step out of the car unexpectedly!
Cross railroad tracks at right angles. VIDEO
Be visible and predictable at all times.

Travel in a straight line.
Wear bright clothing.
Use both a front and back light at night.
Riding Resources