Check this page frequently for announcements, upcoming events, and detours regarding Houston's bikeway network.
Announcements and News
MKT Spur: The MKT Spur, which will connect the MKT Trail to the White Oak Bayou Trail, is close to beginning the public engagement process. The construction contract was recently approved by City Council and is planned to start this fall, completing by winter 2022. A public meeting will be scheduled to inform Houstonians of the project details and construction timeline. Please check our Engage Houston website frequently, meeting details will be posted there.
MKT Bridge: Repairs to the MKT Bridge damaged by fire were recently paused due to more fire damage being found during construction. More updates are available on the Houston Parks Board website.
Events
2/3 Third Ward Bikeways Virtual Meeting: We are hosting a virtual meeting to discuss future bikeways along Blodgett and Cleburne that will help create a complete network across Third Ward. We would like community input in creating the initial options. Click [HERE] for the flyer and join the meeting via Microsoft Teams with this [LINK]. More information is available on the Third Ward Let's Talk Houston page.
2/7 11th Street Safety Improvements Virtual Meeting: We are presenting project updates on the 11th Street bikeway at the Houston Heights Association Land Use Committee's virtual meeting. We will show how we incorporated community feedback into 11th Streets new design. The meeting will be held via Zoom. For more information go to the 11th Street Let's Talk Houston page.
Construction and Detours
Bayou Greenways Detours: The Houston Parks Board maintains an online map of construction projects affecting the Bayou Greenways along with detours as needed. Visit the map on their website [HERE] for detailed updates.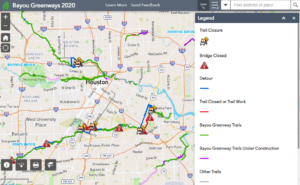 White Oak Bayou: The Harris County Flood Control District is working on the approximately 5.4-mile segment of White Oak Bayou between Hollister Street and Cole Creek, which include widening and modifying the flood channel. The White Oak Bayou Greenway will be closed between Cole Creek (south of Tidwell Road) and the Hollister Detention Basin during construction. The project is expected to be completed by Spring 2022.
We are coordinating with Houston Parks Board and Near Northwest Management District to create a safe detour for cyclists and pedestrians during construction. Outreach will begin soon, keep checking this page and our Let's Talk Houston website for updates on public meetings.
Click [HERE] for more information on the project from HCFCD.