Check this page frequently for announcements, upcoming events, and detours regarding Houston's bikeway network.
Announcements and News
MKT Spur: The MKT Spur, which will connect the MKT Trail to the White Oak Bayou Trail, is close to beginning the public engagement process. A public meeting will be scheduled in August. Afterwards construction will begin and is planned to be complete by January 2022. Keep checking back for more updates.
MKT Bridge: Construction to repair the MKT Bridge damaged by fire in 2020 is expected to start in June 2021. More updates are available on the Houston Parks Board website.
Events
7/12: Parker Road In-Person Public Meeting. The City of Houston and Council Member Karla Cisneros are hosting an in-person public meeting to discuss upcoming safety improvements to Parker Road. The meeting will be held at the Houston Community College Northline Campus, Building E-Room E130, 8001 Fulton St., Houston, TX 77022 For more information go to Let's Talk Houston or email bikeways@houstontx.gov.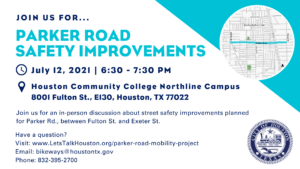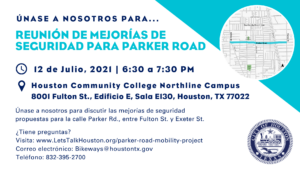 Construction and Detours
Bayou Greenways Detours: The Houston Parks Board maintains an online map of construction projects affecting the Bayou Greenways along with detours as needed. Visit the map on their website [HERE] for detailed updates.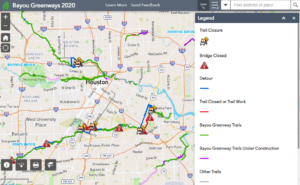 White Oak Bayou: On Thursday, June 10, 2021 the Harris County Flood Control District will begin construction on the approximately 5.4-mile segment between Hollister Street and Cole Creek, which include widening and modifying the flood channel. The White Oak Bayou Greenway will be closed between Cole Creek (south of Tidwell Road) and the Hollister Detention Basin during construction. The project is expected to be completed by Spring 2022. For detour information go to the Bayou Greenways Map at the link above, and click [HERE] for more information on the project.