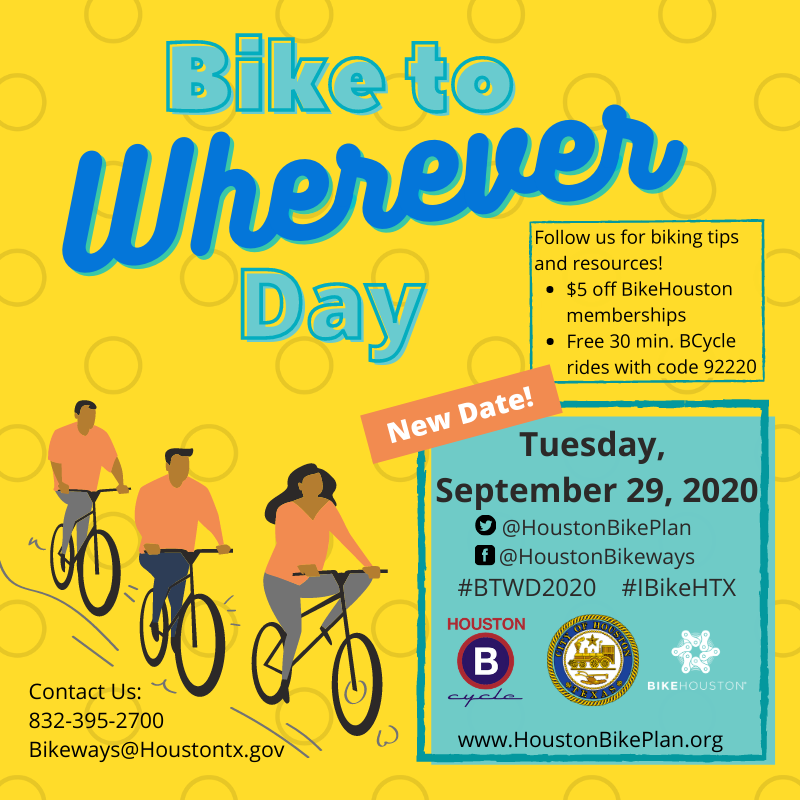 The COVID-19 pandemic has temporarily interrupted life as we know it. With many still working from home, we thought we'd celebrate the nation's rescheduled Bike to Work Day by encouraging Houstonians to try biking wherever their day takes them. We realize the importance of maintaining an active, healthy lifestyle, so join us and help us promote active transportation by biking wherever and let us know about it.
Join in on the fun, Tuesday, September 29 all day long!
To help make your ride to wherever safe and enjoyable, we've listed some safety tips and riding resources below. We'll also be crowdsourcing some tips on biking on Facebook and Twitter, so be sure to follow us and join the conversation!
Twitter: @HoustonBikePlan
Facebook: www.facebook.com/HoustonBikeways
#BTWD20 Discounts
Houston BCycle is offering FREE 30 min rides from any BCycle station in the city on Bike to Wherever Day! Use promo code 92220 to get a free 30 minute ride. Overage fees will cost $3 per 30 mins.
Get $5 off BikeHouston memberships on Bike to Work Day!
Safety Tips
Make sure your bike is in good working condition before riding. Check your tires for proper inflation and brakes and chain for proper operation. VIDEO
Wear a helmet – and make sure it is secured correctly. VIDEO
Ride on the right side of the road and with traffic. VIDEO
Obey all traffic rules, signs and signals.
Look before changing lanes, and use hand signals for turns. VIDEO
Watch for potholes, debris, cars, trucks, pedestrians and other bicyclists.
Stay outside the "door zone" by riding at least 4 feet away from parked cars– you never know when somebody might step out of the car unexpectedly!
Cross railroad tracks at right angles. VIDEO
Be visible and predictable at all times.

Travel in a straight line.
Wear bright clothing.
Use both a front and back light at night.
Riding Resources