Last Updated on
Overview
The Patterson Bikeway aspires to create a safe connection for bicyclists between White Oak and Buffalo Bayous. First identified through the Super Neighborhood 22 Transportation Plan in 2010, the route is planned along Patterson and other neighborhood streets through the West End and Magnolia Grove neighborhoods. The project also includes an enhanced crossing at Washington and Patterson, one of 12 intersections evaluated by a team of experts through a recent Road Safety Audit.
Project Updates
Want to see what a safer connection to Buffalo Bayou Park could look like? Help us test a new street design on Jackson Hill Street and tell us what you think! View Facebook event here.
Join Us!
Saturday, January 25, 2020
11:00 am to 1:00 pm
Jackson Hill Street & Scotland Street
The City of Houston welcomes you to a temporary demonstration of proposed safety improvements at Jackson Hill and Scotland, part of the Patterson Bikeway project linking White Oak and Buffalo Bayous. Join us to walk or bike the new street and share your feedback with staff. Your input will help shape the final proposal for the project.
Route Map
The route extends south from White Oak Bayou to Buffalo Bayou. Patterson Street is proposed to be a shared on-street route from White Oak Bayou to Blossom Street. Blossom is proposed to be a shared on-street bike route connecting to a dedicated on-street bike lane on Jackson Hill, ending at Buffalo Bayou.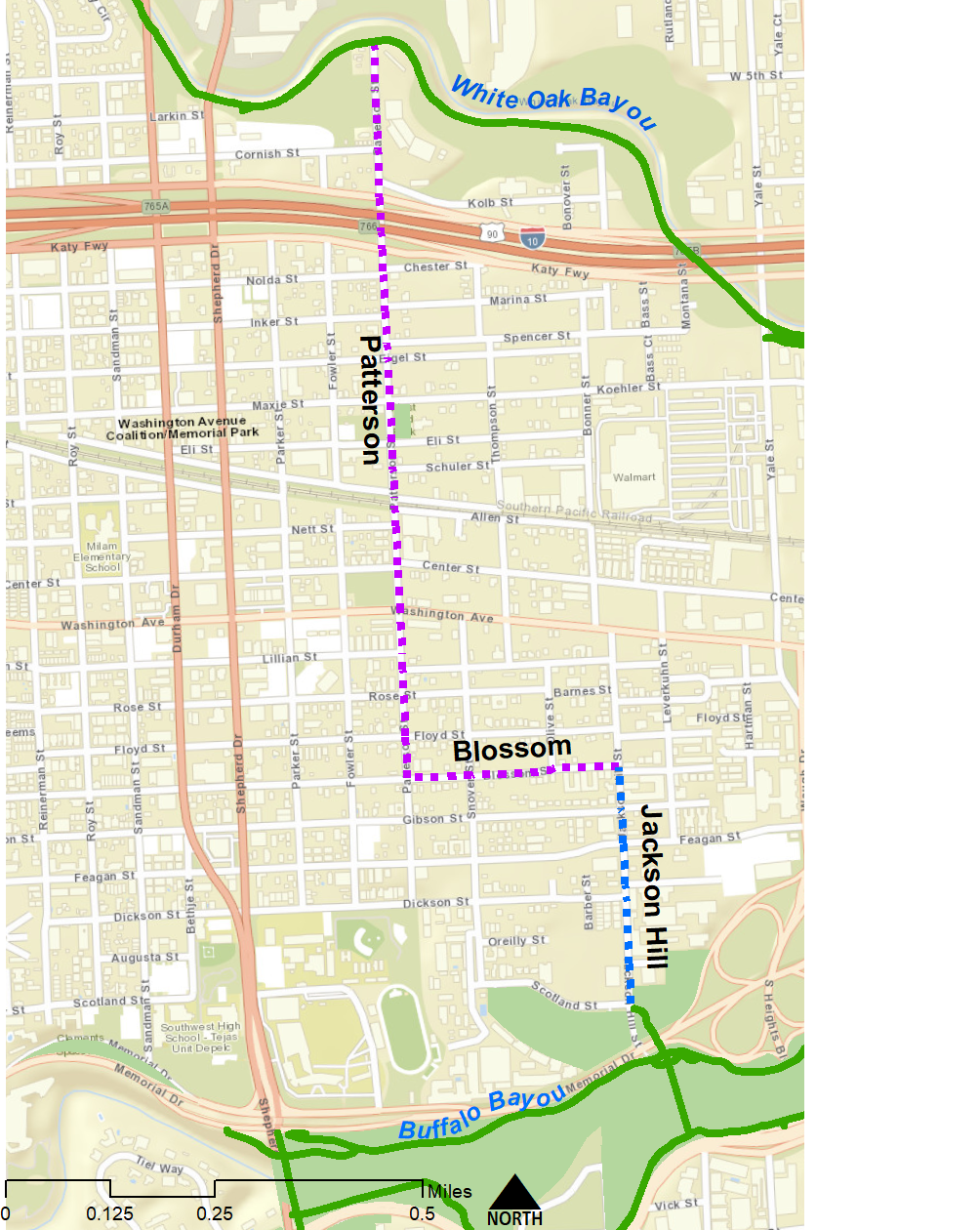 Public Engagement
Patterson Street Bikeway Stakeholder Meeting, June 13, 2019,
Presentation
Planning & Development and Public Works staff presented the results of a community survey and the recommended design for the corridor.
Patterson Street Bikeway Stakeholder Meeting, November 29, 2018,
Presentation
Contact Us
For more information, please contact us at bikeways@houstontx.gov or (832)395-2700.