Last Updated on
In the Near Northside Action Plan developed through Mayor Turner's Complete Communities Initiative,  residents established three mobility and infrastructure goals: build great streets, improve neighborhood mobility, and expand bike lanes and facilities. The proposed bikeway network under the city-county partnership seeks to meet each of these goals by improving on-street bicycle infrastructure, creating safe intersection crossings for bicyclists and pedestrians and connecting residents to major destinations within and around Near Northside.
The City of Houston Planning and Development Department has met with and will continue to meet with Near Northside community members to discuss proposed bikeways. Below is a timeline of various meetings and events in which Planning and Development staff have vetted the Houston Bike Plan:

Project Updates
As part of the broader bikeway network in Near Northside, the first on-street bike lane to be implemented will be on Lyons Avenue!
Lyons Avenue bikeway serves as a piece of the Phase 1 Bikeway Network in the community, which totals 9.2 miles and includes key north-south and east-west connectors such as Hardy, Elysian, and Kelley. The Lyons Avenue on-street bike lane will:
Extend 0.67 miles in length from Hardy Street to Jensen Drive
Maintain 6ft in width on both sides of the street
Enter into construction at the end of October 2018 (estimated) and
Complete construction at the end of December 2018 (estimated)
Connect people on bikes to major destinations, such as Saint Arnold's Brewery
Enhance bikeway connections into Downtown and Fifth Ward
The City-County partnership is excited to begin construction of the on-street bike lane on Lyons Avenue. It is a first of many high-comfort bicycle facilities that will be safe for users of all ages and abilities.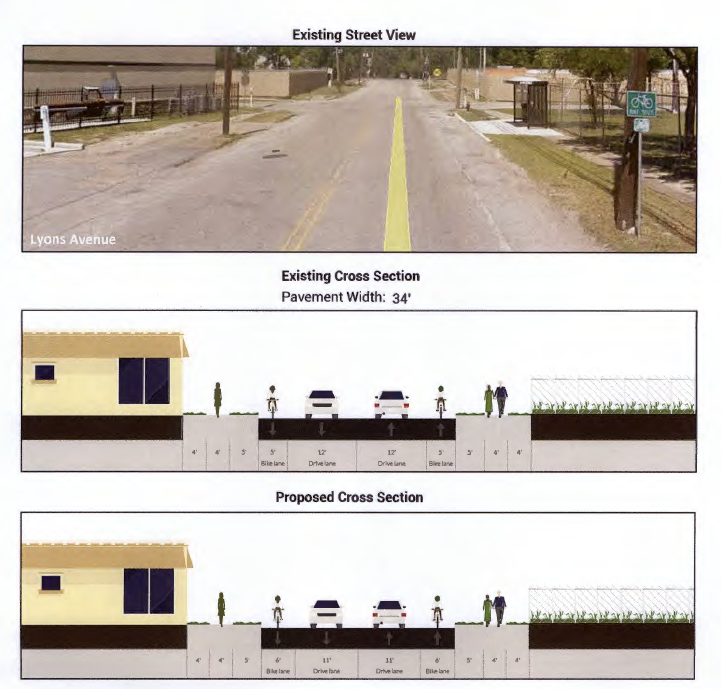 Proposed Bikeways
Phase 1 represents routes that passed a preliminary feasibility analysis. Phase 2 are bikeway routes also identified by the community, but are not feasible to implement by April 2019, as they are long-term projects. Proposed CIP are  projects the City of Houston seeks to complete using Capital Improvement Program funds. The yellow highlighted segment, Project by Others, indicates that there are plans to improve street and bike infrastructure in that area by either the City of Houston or an entity outside of the City of Houston.
Phase 1 Bikeways

Phase 2 Bikeways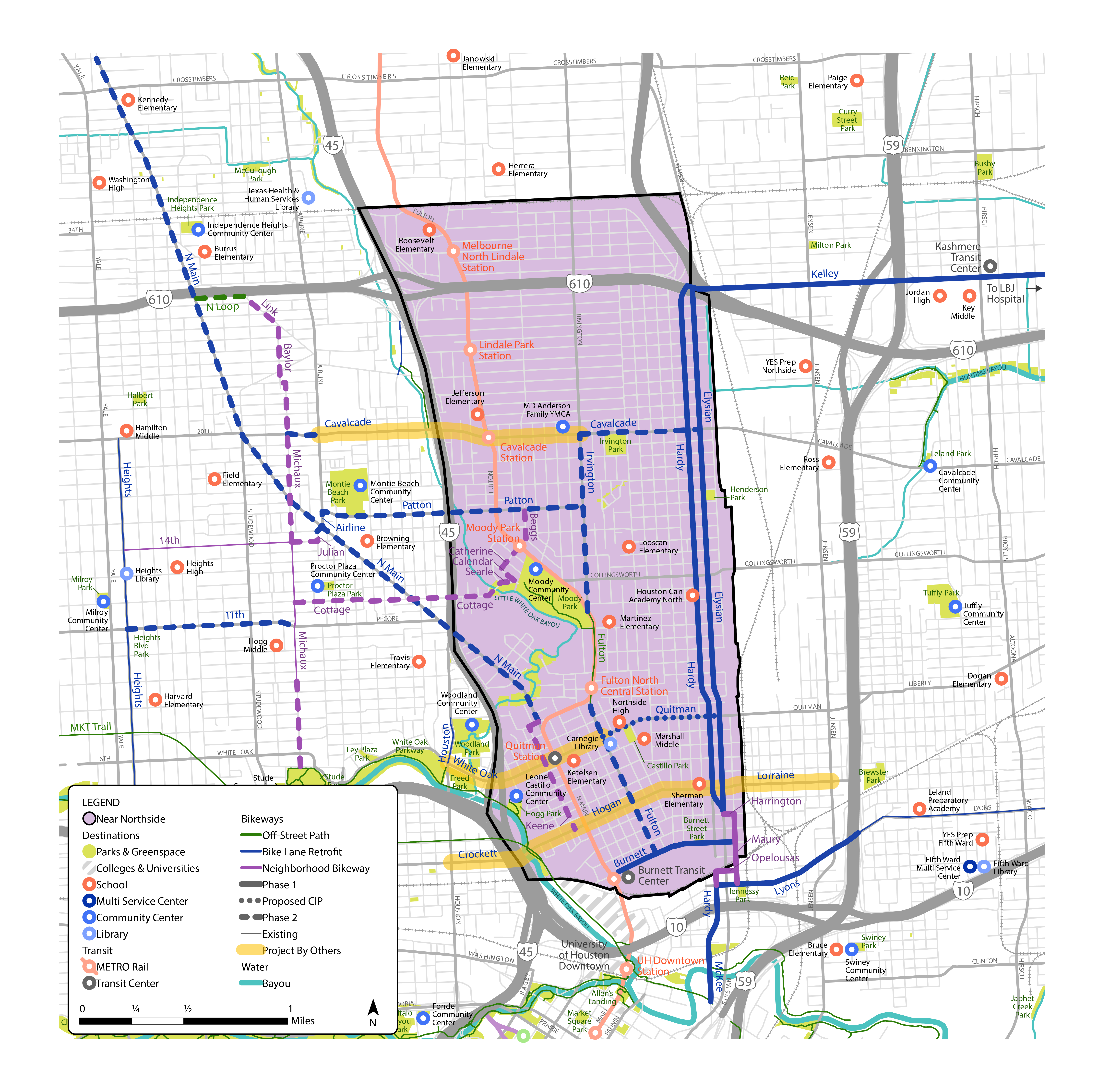 Public Engagement
June 20, 2018 Near Northside Mobility Workshop
Poster Board Feedback
Materials presented at the workshop
Materials promoting the workshop
May 31, 2018 Near Northside Neighborhood Support Team (NST) Meeting
Materials presented at the meeting
May 2, 2018 Leadership and Advocacy Team Meeting
April 21, 2018 Build Lead Free 4 a Healthy Me Resource Fair
Acknowledgements
Project Partnerships
Harris County Precinct 1
Harris County Precinct 2
Council Member Karla Cisneros
City of Houston Planning and Development Department
Houston Public Works
Project Management & Design Consultants
Jones Carter
Traffic Engineers, Inc (TEI)
Toole Design Group
Contact Us
Questions, concerns, comments and/or feedback about planning, engagement, and implementation of the Houston Bike Plan? Please contact:
Houston Bikeways Program
Transportation Division
City of Houston Planning and Development Department
832-395-2700
bikeways@houstontx.gov
Questions, concerns, comments and/or feedback about construction of the Lyons Avenue On-street Bike Lane? Please contact:
Main Lane Industries, LTD
Office: 713-896-3141