Last Updated on
Status: Under Construction
Estimated Completion: Summer 2020
A central component of the planned regional bikeway network is the Austin Corridor. This route connects Buffalo Bayou to Brays Bayou through Downtown, Midtown and Museum Park using new on-street bikeways and existing trails in Hermann Park. The Austin Corridor connects to jobs, schools, parks and other central city destinations, as well as planned networks in Near Northside and Third Ward.


Project Updates
The La Branch Street segment of the corridor is currently under construction. Anticipated completion date of this section is November 2019.
The Austin Street two-way cycletrack is estimated to go into construction by October, with full build-out by Summer 2020.
Public Engagement
Houston Bikeways stakeholder meeting co-hosted by Midtown Super Neighborhood, January 10, 2019
To provide additional feedback, please contact Peter Eccles at (832) 393-6591 or Peter.Eccles@houstontx.gov


Route Map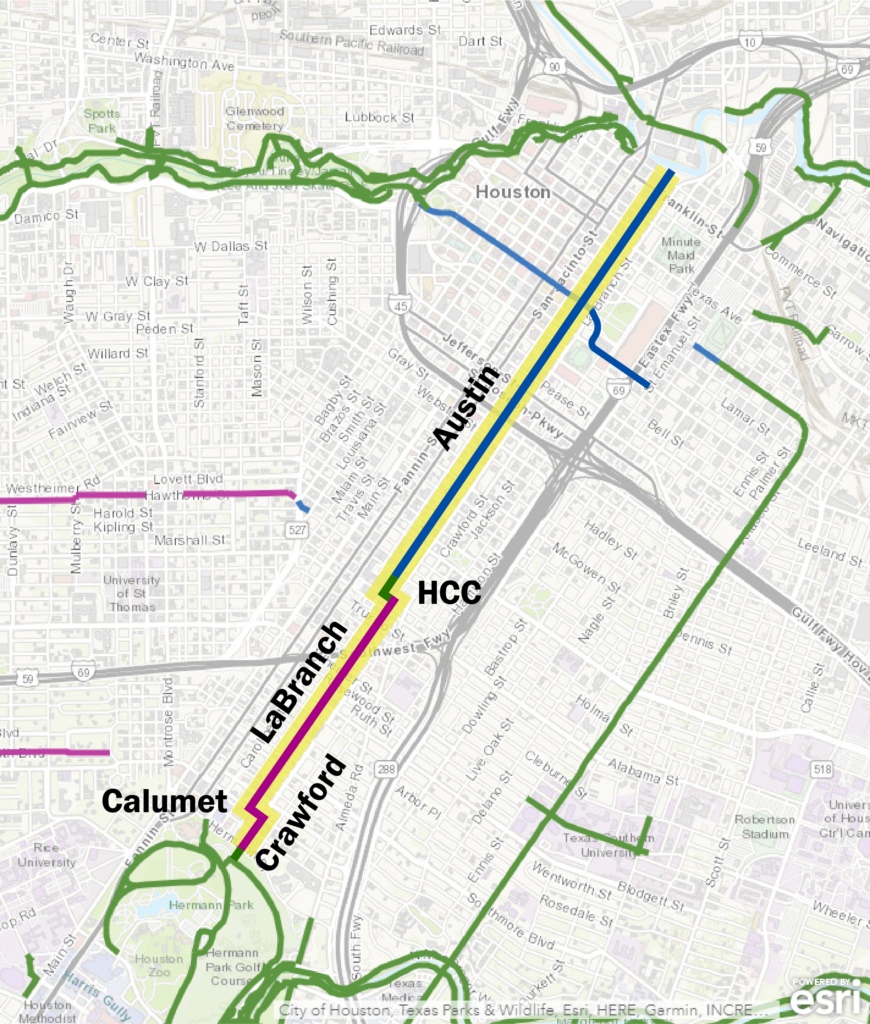 Segment Details
The on-street bikeway is planned along different segments of Austin, LaBranch, and Crawford streets, and will take a range of forms based on street width, traffic volumes and other characteristics. For each segment, the following configurations are planned:


Austin Street
From Commerce to Capitol – 40′ wide



From Capitol to McGowen – 52′ wide



From McGowen to Holman – 35′ wide



LaBranch
From HCC to Calumet – 35′ wide



Crawford
From Calumet to Hermann Drive – 22′ wide each way



Parking Assessment
As currently proposed, the on-street bikeway entails the removal of 37 free and 24 metered parking spaces on the east side of Austin between McGowen and Holman. To better understand the impacts of the project on the neighborhood's parking supply, a parking study was conducted by the consultant team. A summary of its findings, as well as the data collected, can be viewed below: