Last Updated on
The city-county partnership established in April 2018 is an exciting opportunity to begin implementing the Acres Home Action Plan under Mayor Turner's Complete Communities Initiative. In the plan, residents stated their goals to nurture healthy, active lifestyles and improve residents' well-being. The city-county partnership can be an opportunity to connect pedestrians and bicyclists (and horse riders!) to area schools, transit and parks.

Can't attend a meeting? Please submit a comment online or contact the Houston Bikeways Program at 832-395-2700 or bikeways@houstontx.gov.
Project Updates
City staff have been preparing conceptual designs for the Phase 1 bikeways vetted by the community. Please join us for our next community meeting to provide feedback on key design details along the shared route network: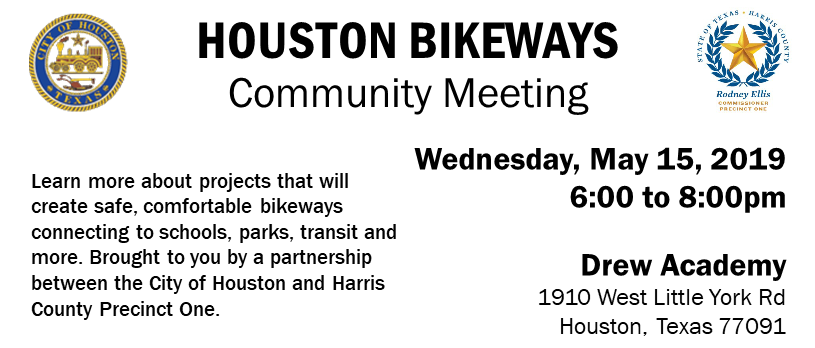 Proposed Bikeways
Phase 1 represents routes that passed a preliminary feasibility analysis. Phase 2 represents routes also identified by the community, but are not feasible to implement by April 2019, as they are long-term projects.
Phase 1 Bikeways
Phase 2 Bikeways
Public Engagement
April 13, 2019 Pop-Up Bike Lane Event at Family Day in the Park. Staff previewed a portion of protected bike lane on West Little York for residents to experience and provide feedback.
April 2, 2019 Presentation to Near Northwest Management District regarding feasibility of West Little York lane reconfiguration
June 16, 2018 City staff attended the Acres Home Juneteenth Parade to gather further input on the proposed bikeways and the community's priorities to implement first. Thirty responses were received, as well as one additional response at the June Super Neighborhood meeting. Click here to view the survey responses.
June 21, 2018 Presentation at Super Neighborhood 6 Meeting
June 14, 2018 Acres Home Mobility Workshop
June 13, 2018 Presentation at Inwood Forest Community Improvement Association Meeting
May 17, 2018 Presentation at Super Neighborhood 6 Meeting
May 3, 2018 Conversation at Acres Home Neighborhood Support Team (NST) Meeting
Contact Us
For more information, please contact Houston Bikeways Program at 832-395-2700 or bikeways@houstontx.gov.